Property Details
(PLS NOTE : WE DO NOT RENT OUT OUR PROPERTIES FOR POLITICAL OR RELIGIOUS PURPOSES)
രാഷ്ട്രീയപരമോ, മതപരമോ ആയ ലക്ഷ്യങ്ങൾക്കായി ഞങ്ങളുടെ വസ്തുവകകൾ വാടകയ്ക്ക് കൊടുക്കുന്നതല്ല
Air-Conditioned Apartment at Kanjikuzhi, Kottayam
3 Bedroom fully furnished service apartment at Kanjikuzhi, Kottayam, just 500 meters from Kottayam Railway Station for families of 6 members. Center of Kottayam town, close to hospitals, schools, shopping malls, super markets and Kottayam collector-ate and Kottayam District Court.
Daily Rent for this property د.إ0/- (for minimum 30 days stay). For less than 30 days stay please Call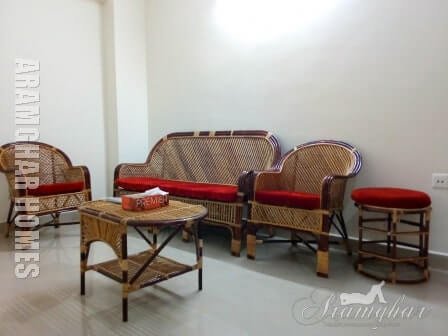 Daily Rental | Short Term Rental | Temporary Rental Accommodation : 3 Bedroom, Furnished Air-Conditioned Apartment located at Kanjikuzhi, Kottayam, just .500 km(s) from Railway Station and .100 km(s) from the nearest bus stop.
---
ന്യായമായ വാടകയ്ക്ക് താൽക്കാലികമായി 10 ദിവസം മുതൽ 1 മാസം വരെ താമസിക്കാൻ, ഫർണിച്ചർ, പാചക സാമഗ്രികൾ ഉൾപ്പെടെ, എല്ലാ സുഖ സൗകര്യവുമുള്ള എയർകണ്ടീഷൻ ചെയ്ത വീടു കൾ ദിവസ വാടകയ്ക്ക്. പ്രവാസി മലയാളി കുടുംബങ്ങൾക്ക് അനുയോജ്യമായ, വൃത്തിയും വെടിപ്പുമുള്ള വീടുകൾ. വിവാഹം, അവധിക്കാല ആഘോഷങ്ങൾക്കായി വില്ലകളും ഫ്ലാറ്റുകളും.
Click Here to View Property Interiors
---
Post your accommodation requirement below with a valid email address. Our system will send you the availability details to your email address in few minutes. Please note : All fields are mandatory in the form below.
---
Availability Enquiry Form
(All fields are MANDATORY)
ലഭ്യത അന്വേഷണ ഫോം
No. of Occupants അംഗങ്ങളുടെ എണ്ണം
Purpose of Stay താമസത്തിനുള്ള ഉദ്ദേശ്യം
---
For Customised Bookings & Enquiries Please Call

(91) 828108 9179
(91) 828108 9279

Click here Send Mail to : info@aramghar.in
FURNISHED APARTMENTS | FURNISHED VILLAS | BUDGET HOMESTAYS | VACATION HOMES BY OWNER